Ready for a party bus rental in New Orleans? New Orleans Charters can help you with all of your transportation needs. We provide high-end luxury buses and limousines, as well as charter vans, minivans and other vehicles to fit any size group or budget. Our fleet features the newest vehicles on the market, including luxury motorcoaches from Prevost Car & Coach Company and Mercedes Sprinters. With our fleet of modern vehicles at your disposal, you'll be able to handle any event thrown your way!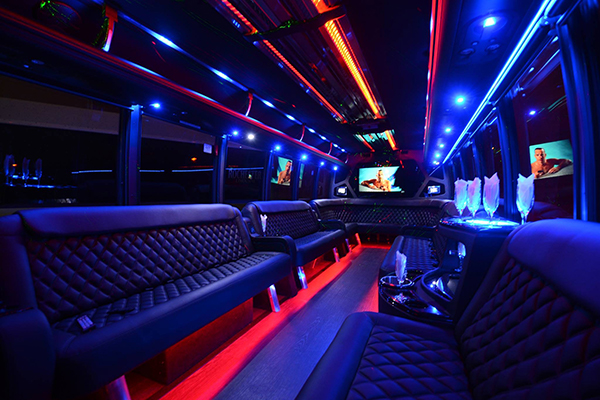 Party buses are the perfect way to take an unforgettable trip in the city you've chosen for your vacation. Cruise around in comfort and style on our fleet of luxury vehicles, which include limousine buses, party buses and sedans. So whether you're traveling alone or with a group of friends, we have options that will accommodate your needs.
Party Bus Rentals in New Orleans Louisiana
Party bus rentals are the perfect way to travel in New Orleans. Our party buses in New Orleans can accommodate groups of 16 or less, with a capacity of 20-25 people on each trip. We provide everything you need for your bus trip, including drinks and an experienced driver. Party Bus Rentals are available 24 hours a day, 7 days a week! If you want to show off at the next wedding, sporting event, school trip or wine tour then reserve a Party Bus Rental today! Our party buses are great for bachelor parties as well as bachelorette parties. No matter what kind of group you have coming into town we will help make sure everyone has fun!
Party Bus Company NOLA
If you're looking for a party bus rental or limousine bus rental, New Orleans Charters is the perfect choice. Our fleet of vehicles includes luxury sedans, SUVs and trucks that are perfect for any occasion. Whether it's your wedding day or a night out on the town with friends, our chauffeurs will ensure that your transportation needs are met with professionalism and care. If your goal is to have an unforgettable experience during your stay in New Orleans Louisiana, then we have just what you need! Hire one of our luxurious coaches today by calling or fill out our online form here at neworleanscharterscom
New Orleans Party Buses Near Me
New Orleans is a city that is known for its rich history and culture. New Orleans is a city that has a lot to offer, with many different restaurants, bars, clubs and more! If you are visiting New Orleans then there are many things you can do while you're here. You could visit the French Quarter, Bourbon Street or even Aquarium of the Americas! There are so many fun places to go in this beautiful city!If you're looking for transportation from one place to another then renting from our company would be perfect for what you need because we have all kinds of vehicles available including limos and party buses! Our fleet includes over 10 luxury cars such as Cadillacs Escalades Jeeps etcetera which means no matter where your destination may be then we'll get there safely without worrying about getting lost along the way because these cars have GPS technology installed within them which will give directions on how best route take based on traffic conditions etcetera.
Why Choose New Orleans Limos Louisiana?
If you are looking for a party bus rental in New Orleans Louisiana, then look no further. New Orleans Limos & Party Bus has the largest selection of party buses and limousines in the city. Our fleet includes everything from small vehicles to large limousines that can comfortably seat up to 25 people. We also offer several different models of luxury party buses so you can choose the right one for your trip!
Luxury Party Bus Options
Party buses are available in a number of different styles and sizes. The more people you're planning to bring along with you, the larger your party bus will need to be. New Orleans Charters offers a variety of luxury party bus options that can accommodate up to 24 guests in style.
14-Passenger Luxury Party Bus (fits up to 14 passengers)
21-Passenger Luxury Party Bus (fits up to 21 passengers)
Party Bus Pricing Explained
If you don't know your way around a party bus rental, then you may be wondering how much one will cost. The size and amenities of the vehicle will determine the price. Party buses range from 15 to 30 feet long and can comfortably fit between 8 and 25 passengers—depending on whether it has a divider separating the driver from passengers or not. Some are equipped with stripper poles, dance floors, projectors for movies and karaoke machines just to name a few things. The prices vary greatly depending on the size of your party bus rental reservation; however there is good news! Charters New Orleans offers affordable rates with hassle-free booking online or by phone. There are no hidden fees when booking with us because we calculate all costs upfront so there are no surprises once you arrive at your destination! The base rate includes fuel cost per hour driven plus gratuity charges paid directly by customer to driver once completed trip (based upon level service received). All other expenses such as parking fees incurred during pick up/drop off times are NOT included in our quoted price but can be added on top of base rate if needed before finalizing booking request.
Sprinter Limo Rentals
New Orleans Charters offers Sprinter limo rentals so you can enjoy a ride that's more comfortable than a traditional bus and still has all of the amenities of a party bus. These vehicles are built to be sleek, spacious, and luxurious. You won't have to worry about squeezing into an uncomfortable seat or feeling cramped in tight quarters during your trip with New Orleans Charters' Sprinter limo rental service!
Limo Sprinter Pricing Explained
Pricing for our limo sprinter rentals is based on the type of vehicle you rent, the number of passengers, and how far you will be traveling. Here are some examples: A standard 10-passenger van rental in New Orleans with a driver costs $1,500 per day. An executive SUV that seats up to 13 people costs between $1,900 and $2,300 per day depending on which location you pick up/return it at. A luxury sedan or minivan can cost anywhere between $1,600 – $2,200 each day depending on what features are included (such as DVD player).
First Class Service
Our service is first-class. We offer a wide range of services, including vehicles in all shapes and sizes. Our prices are affordable, and our locations are convenient for all your travel needs. In addition to our standard amenities, we also offer a wide range of extras that can be included in your party bus rental from New Orleans Charters.
Executive Party Bus Rentals
The best way to start your New Orleans adventure is to hire a luxury coach bus. Our Executive Party Buses are loaded with amenities that will make your trip as memorable as it can possibly be. You'll love the spacious interior and comfortable seating arrangements, as well as our first class service. We offer several different types of coaches for rent in New Orleans, Louisiana: The Executive Coach (36 passengers) – $75 per hour (3 hour minimum). The Super-Stretch Limo Coach (48-60 passengers) – $100 per hour (3 hour minimum).
Executive Party Bus Prices Explained
The price of a party bus rental depends on the type of bus you choose, the number of people in your party, how many hours you need it for and how many stops are included. We offer Executive Party Buses with capacities up to 49 passengers and the luxury Vogue Party Bus with a capacity from 27 passengers up to 52 passengers. A standard size Executive Coach Bus has room for 36 passengers and is perfect for smaller groups or families looking for an affordable option. Also available are larger buses that can accommodate as many as 50+ passengers! Our pricing includes free pick-up in New Orleans at any time during our hours of operation (Monday through Friday) along with complimentary delivery back into New Orleans after your night out on the town!
Airport Transportation
Airport transfers are one of the most popular services we provide. We have a large fleet of luxury buses, limousines and party buses that can accommodate any size group. We also offer hourly transportation for travelers needing point-to-point or round trip service. Our goal is to make your trip as smooth and hassle-free as possible by providing you with a reliable ride from the airport to your destination.
Bus Shuttle To The Venue With Wedding Transportation
We know that the wedding day is a special day for you and your significant other, so we want to make sure our buses are there to help you celebrate from start to finish. That's why our wedding transportation will be available at all times during your day:
Pick up at home and hotel
Drive you to your venue
Be there for you throughout the whole day and night
Drive back with us after the reception
Coach Bus Transport For Sport Teams
If you're the coach of a sporting team, we have packages that will make transportation to games, tournaments and away games easy and affordable. You can bring your entire team on board with a bus rental in New Orleans Louisiana so they can travel together in comfort. Our coach buses are perfect for transporting your team to training sessions or practice too! With our top-of-the-line vehicles and professional drivers, we'll ensure that all of your players arrive safely at their destination.
School Bus Rentals For Perfect School Trips
School bus rentals are great for school trips, especially for field trips or even just to the city's attractions. The benefits of a school bus rental include: Affordability. School buses are reasonably priced, making them an affordable option for organizing your next trip without breaking the bank. Convenience. When you reserve a school bus through NOLA Charters (or any other company), you can rest assured that we'll take care of all the details so that your group has no worries about transportation while exploring New Orleans Louisiana! You'll have plenty of time instead to focus on having fun with friends while learning more about this incredible city's history!
Book Corporate Travel Party Buses
When you're looking to travel in style, it's hard to beat a party bus rental. Many companies offer corporate travel party bus packages that include a driver and all the amenities you could want on your road trip. Here are some of the things to consider when booking a corporate travel party bus: How many people will be traveling? What are your dates? What kind of vehicle do you need?
Prom and Formal Limo Shuttle Service
Whether you're putting together a prom or formal event, our party buses are the perfect choice for your transportation needs. Simply tell us where to pick up your group and where you'd like to be dropped off, and we'll make sure that everything goes smoothly. If you have questions about our services or would like to schedule a ride on one of our party buses, feel free to contact us today!
Easy Transportation For Greek Events in Party Buses
Greek events are often held in large venues, which means that they require a lot of transportation. If you're planning on attending a Greek event, it's important to make sure you have enough transportation to get from place to place. Luckily for you, New Orleans Charters has got you covered with their fleet of party buses! We know that Greek events require a lot of planning and preparation on the part of those who are hosting them. Our company understands this and does everything we can to make sure that our services fit in perfectly with your needs as well as your budget. We'll even work with you if there are any special requirements that need to be met!
Affordable Homecoming Bus Rentals
The homecoming is a special time for high school and college students. It is an annual event that celebrates the school's tradition, history and success. Homecoming is also a time to bring together alumni and current students, as well as their families – many of whom may have attended the same high school or college! After you have booked your charter bus rental with New Orleans Charters, our professional drivers will help organize all of your transportation needs during your upcoming homecoming celebration. Whether it's picking up friends at the airport or taking them out to dinner after a long day of activities, we want to make sure that everything goes smoothly for you and your loved ones!
Travel Comfortably With Pub Crawl Minibuses
The party bus comes with a sound system and comfortable seats. You will be able to relax and enjoy your ride while the drivers take care of all the driving duties. There is no need to worry about parking issues or traffic jams, they will get you around safely and comfortably.
Wine Tour Party Bus Trips
We are a transportation provider in New Orleans that offers chauffeured transportation services for all occasions. Whether you need a party bus rental for a wedding, prom, or birthday party, we can help you find the best pricing and service to meet your needs. Call us today to reserve your chauffeured transportation. We offer a variety of party bus rental services in New Orleans Louisiana. Whether you are looking for an intimate evening with friends or family, we can help you plan the perfect night out on our fleet of luxurious vehicles.
Call us today to reserve your Chauffeured transportation
To reserve your New Orleans party bus rental, call us today. We are available 24/7 and our team of professional chauffeurs will take you to your destination in comfort and style. Our fleet includes a variety of vehicles to suit your needs: Sedans, vans, limousines, SUV's and luxury vehicles.